Surgical Trays & Procedure Packs
Every surgical tray and procedure pack is custom designed.
The best part about our surgical trays and procedure packs is each one has been custom designed by AngioSystems working with a specific doctor or hospital to meet their exact needs.
Every doctor and facility has their own unique specifications they would like in designing their optimal tray. Other tray manufacturers want to sell you their version of specific procedure tray, but it is one size fits all for every hospital they sell to, and to make a change requires significant time and high minimum orders. AngioSystems Custom Surgical Trays and Procedure Packs have all been designed working directly with those who will use the product, whether it is a high volume tray in a busy hospital, or a unique pack used in specialty procedure.
Continual customization as your needs change.
As your needs change, we are always happy to work with you to change the tray to fit your evolving needs. These changes can happen quickly unlike with larger tray providers.
Need a drape in tray? We have hundreds of drape designs available, but if we don't have what you need we will design the optimal drape to go into your tray.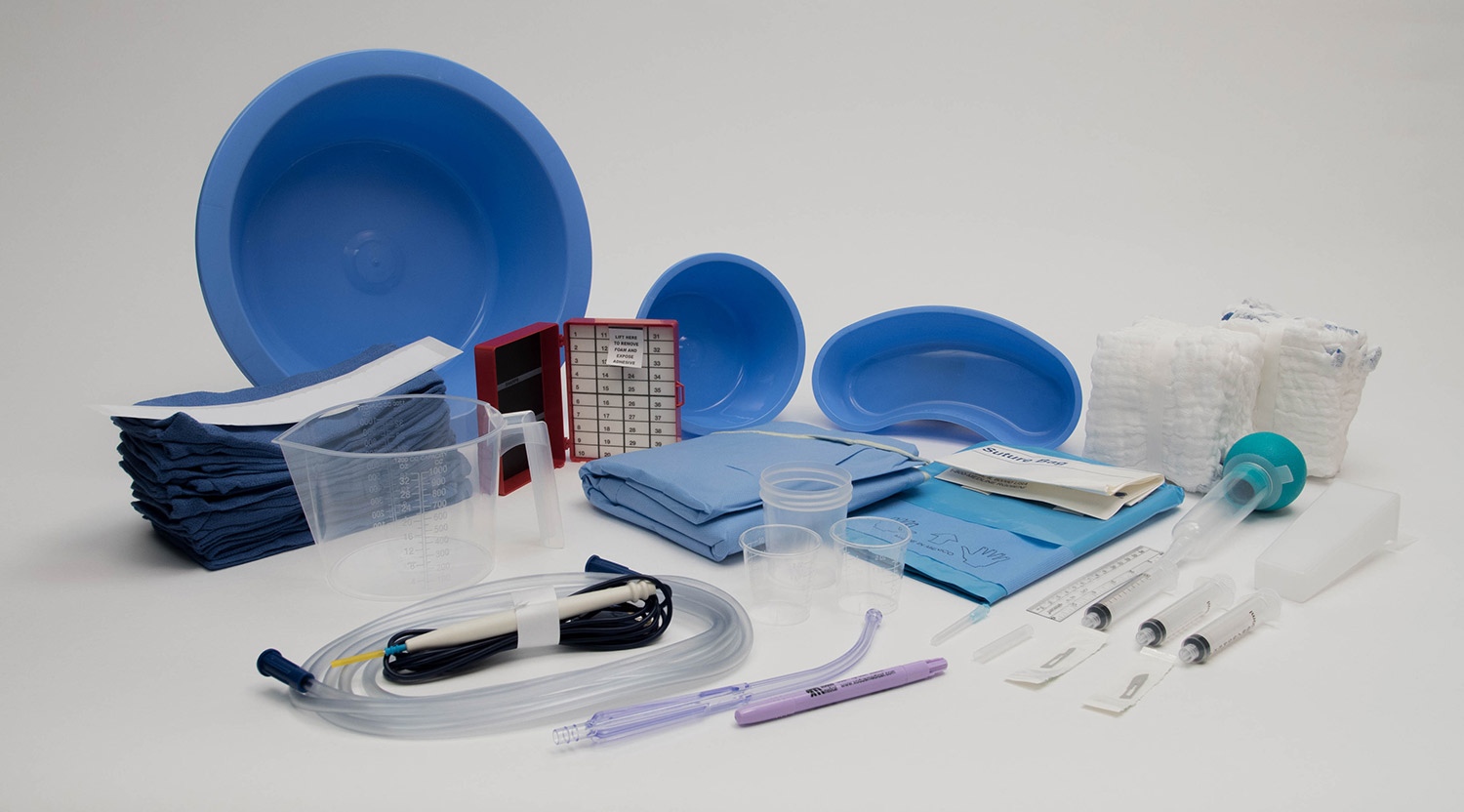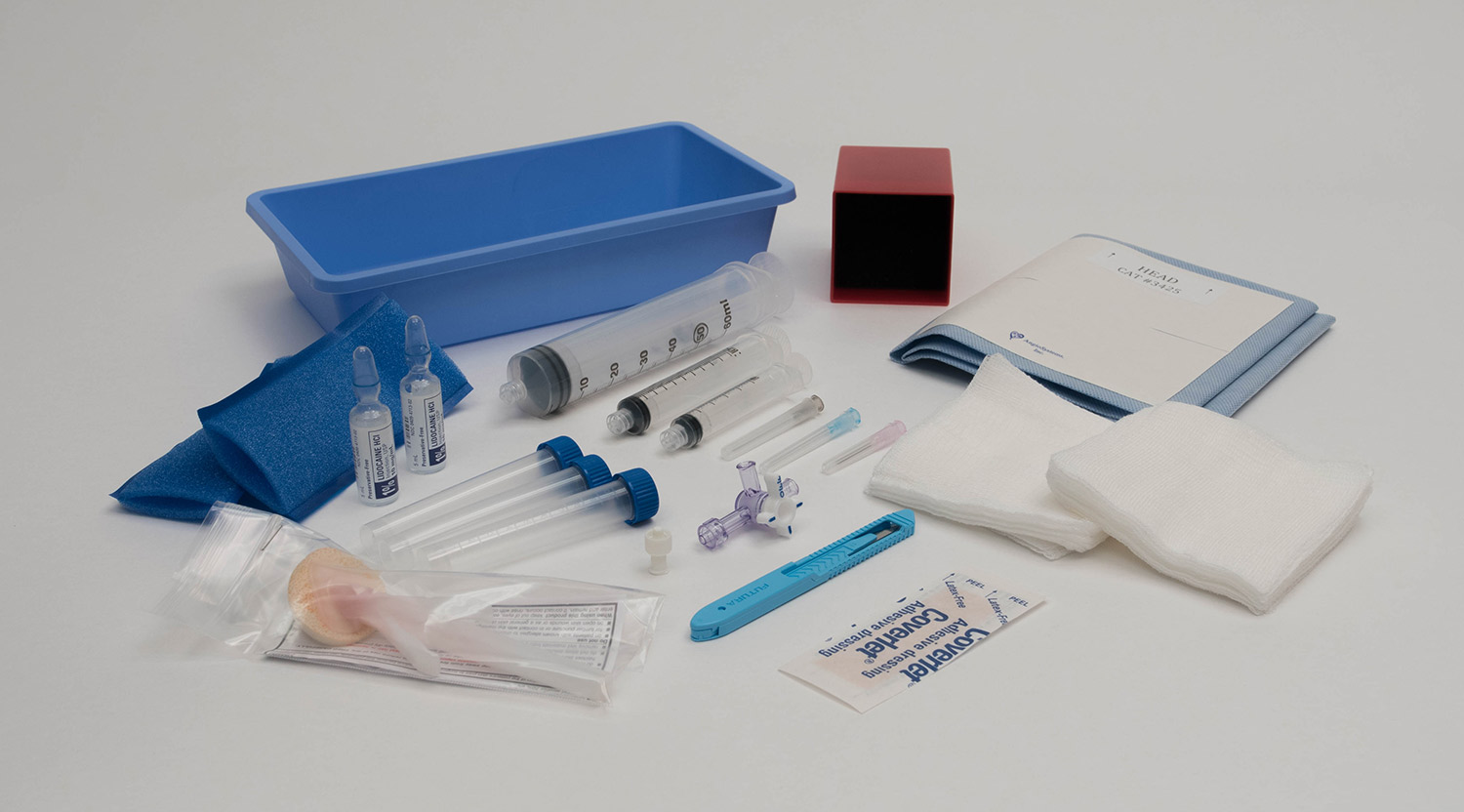 No matter if you are doing an angiography procedure or PICC Line insertion, AngioSystems is ready to design a custom tray to meet your distinctive needs.
Standard Surgical Tray Offerings
While AngioSystems prides itself on the development on custom trays to meet the needs of each facility we have developed some standard trays over the years with the experience. You can purchase these trays or use them as a starting point and modify to your needs.
Angiography Trays
A full length patient drape complete with multiple absorbent protected fenestrations and clear equipment control windows is featured in this tray. A variety of forceps (including curved mosquito forceps), precision needles, syringes, and scalpels are included. Hypoallergenic medical tape, preoperative skin antiseptic, and transparent wound dressings are also integrated into this tray. Other required accessories such as bowls, gauze, surgical gowns, and towels are also built in.
Biopsy Trays
Our Biopsy Trays include one of our many different biopsy drapes that are access site specific and include an absorbent pad at the fenestration area. Each tray includes several gauge needles, scalpels, and syringes. Rulers or tape measures are also standard in these trays. Specific packs are available for a variety of different biopsy's including lung, kidney, and breast.
Interventional Radiology Drape Trays
This tray includes an extra large patient drape with features such as large absorbent field, and dual clear equipment control windows. An additional absorbent pad and field cover is also included, along with all the other necessary accessories.
Pacemaker Trays
The tray features a full length patient drape with Incise™ at the fenestration in order to protect from skin recolonisation and thus reduces the risk of surgical site infection. Procedure appropriate needles, syringes, scalpels, and other accessories are also included.
PICC Insertion Trays
Our tray includes a full length sterile PICC Line drape with absorbent material and multiple fenestration access points for convenience and versatility. Multiple syringes are provided along with a Hypodermic Safety Needle. Preoperative skin preparation antiseptic, blood stream infection dressings, and transparent dressing to protect and cover the catheter access area are provided, along with other standard items such as gowns, bouffant caps, and tourniquets.
Combicath Trays
Assembled to work in conjunction with mini sampling telescoping catheters for diagnosis of lung infection these trays typically include Bodai Suction tubing and precision needles and syringes.
Infant and Pediatric Trays
AngioSystems offers trays that are designed specifically for younger and smaller patients including customizable sized drapes and appropriate gauge needles.